I have a mixed bag of updates for you regarding the market this week. On the one hand, we only have 2,512 properties in contract to be sold. That is down 37.9% from last year. On the other hand, this week, we had 150 contracts signed which was 25.95% more than last week. Sellers continue to list their homes at the same pace as last year. 171 new properties came to the market for sale +11.76% more than the week prior. On the luxury front ($4mill & Up), 14 contracts got signed last week.
There was a stark contrast between co-ops and condos, as only 12 condos went into contract while only 1 coop did. 1 Townhouse went under contract as well. The most expensive sale was a combination apartment at 50 West 66th Street 45.5mill!
Every day from October through January, buyers, and sellers ask me if they should be making any moves. The answer is that it depends on your individual needs and expectations. This past week I had one contract signed on one of my listings, and an offer accepted on another. Transactions are happening all the time. The question is simply, when is your time?... and the answer is….. Call me to find out :-)
Feel free to check out some additional data below, and let me know if you have any interest in having a further exploratory conversation regarding your real estate plans for 2023!
Additional Data from Compass to consider: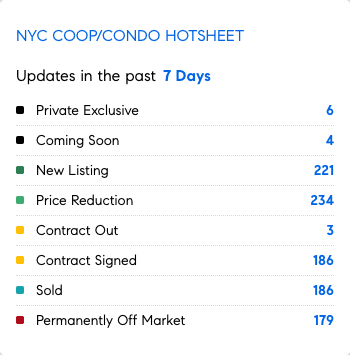 *There is a slight variation between data collected from Compass and Urbandigs databases but the trends are the same!