SUPERIOR MARKETING SERVICES
Not all teams are created equal and the difference that the Michael MEIER teams makes is clear. Our boutique structure and team approach enables us to empower every sales agent with collaborative marketing support to sell your property. Sellers choose and refer us again and again because they experience how the MEIER teamwork executes unique strategies that earn maximum exposure and unparalleled results. As your broker we market your premium property as its own luxury brand.

Our innovative and proactive promotional services include:

1. PROPERTY BROCHURES, MAILINGS & TARGETED EMAILS

Celebrate your home's greatest assets with messages crafted by our expert team of art directors and copywriters. Announce that your home is on the market via highly customized brochures, mailings, advertisements and emails aimed toward a sophisticated and targeted list of potential buyers that build personal connections.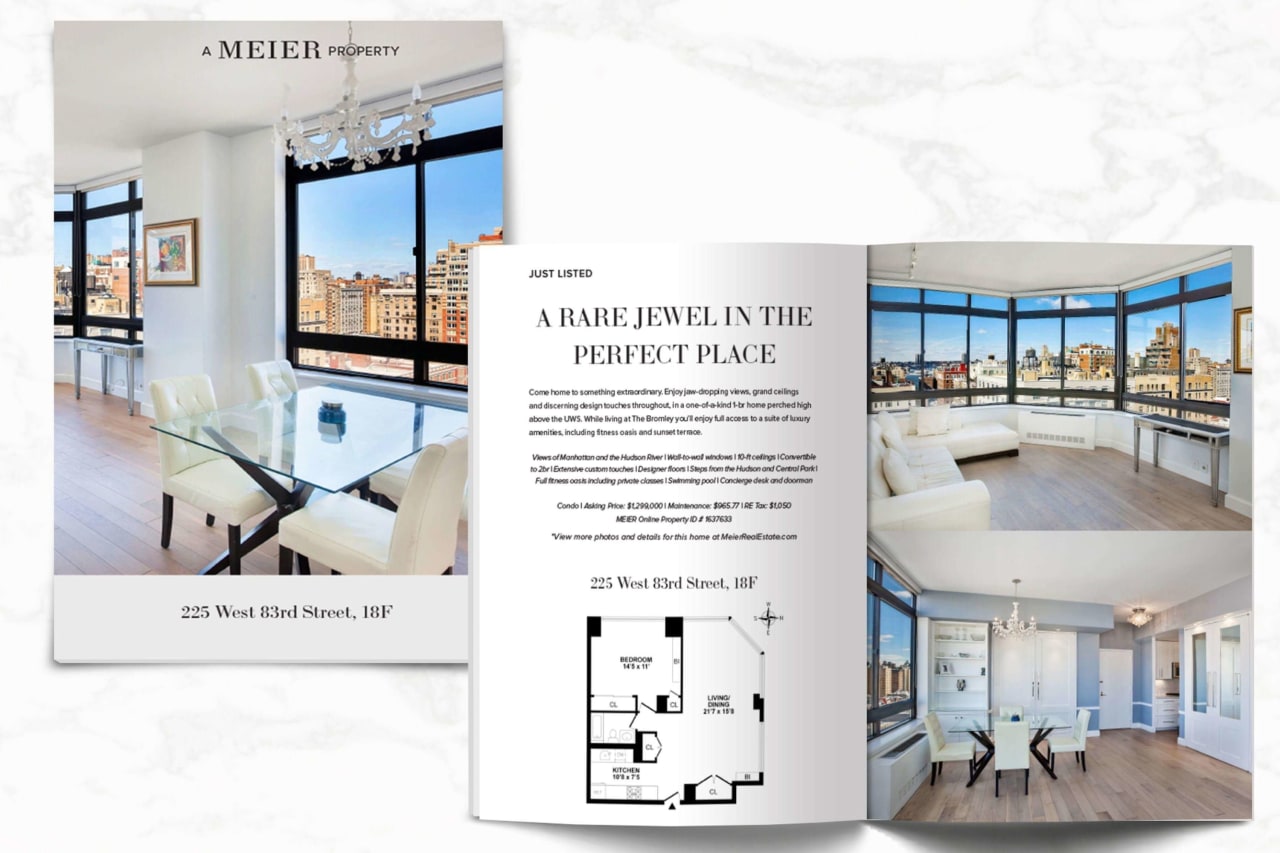 The right photo can make anyone fall head over heels. That's why we work with some of the most experienced photographers in the industry. If your property is vacant, in need of repairs or missing the right furniture to show off the unit, we'll digitally remove its current contents and then digitally stage it to attract buyers which allows them to visualize its potential.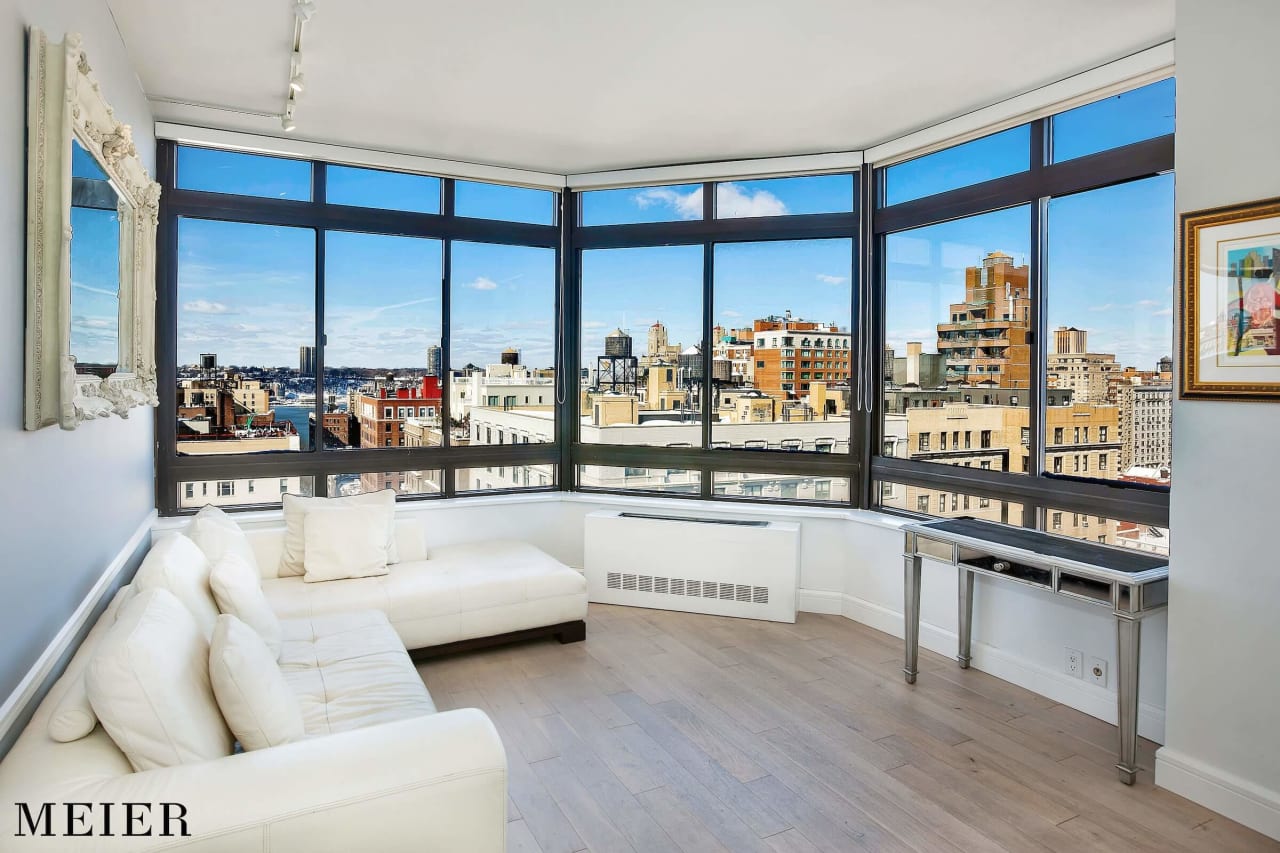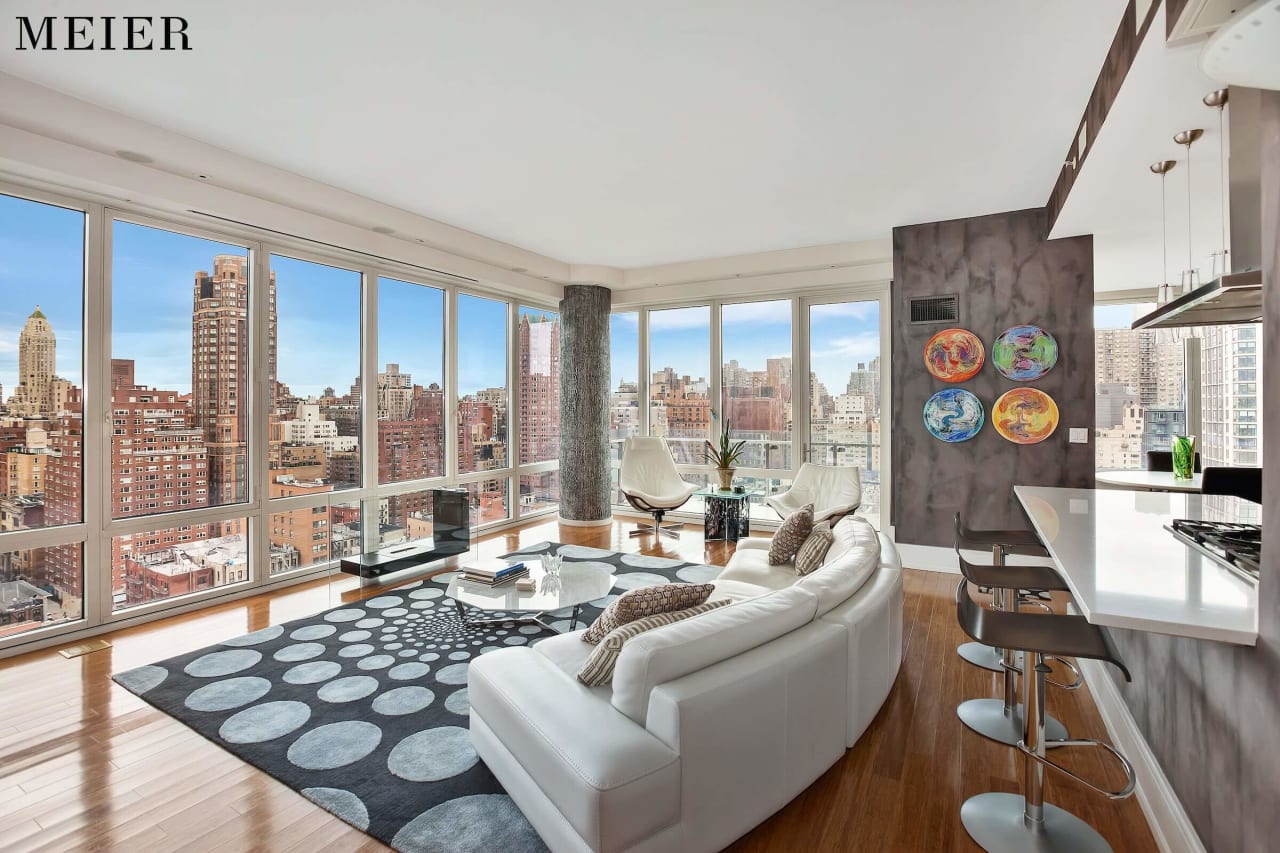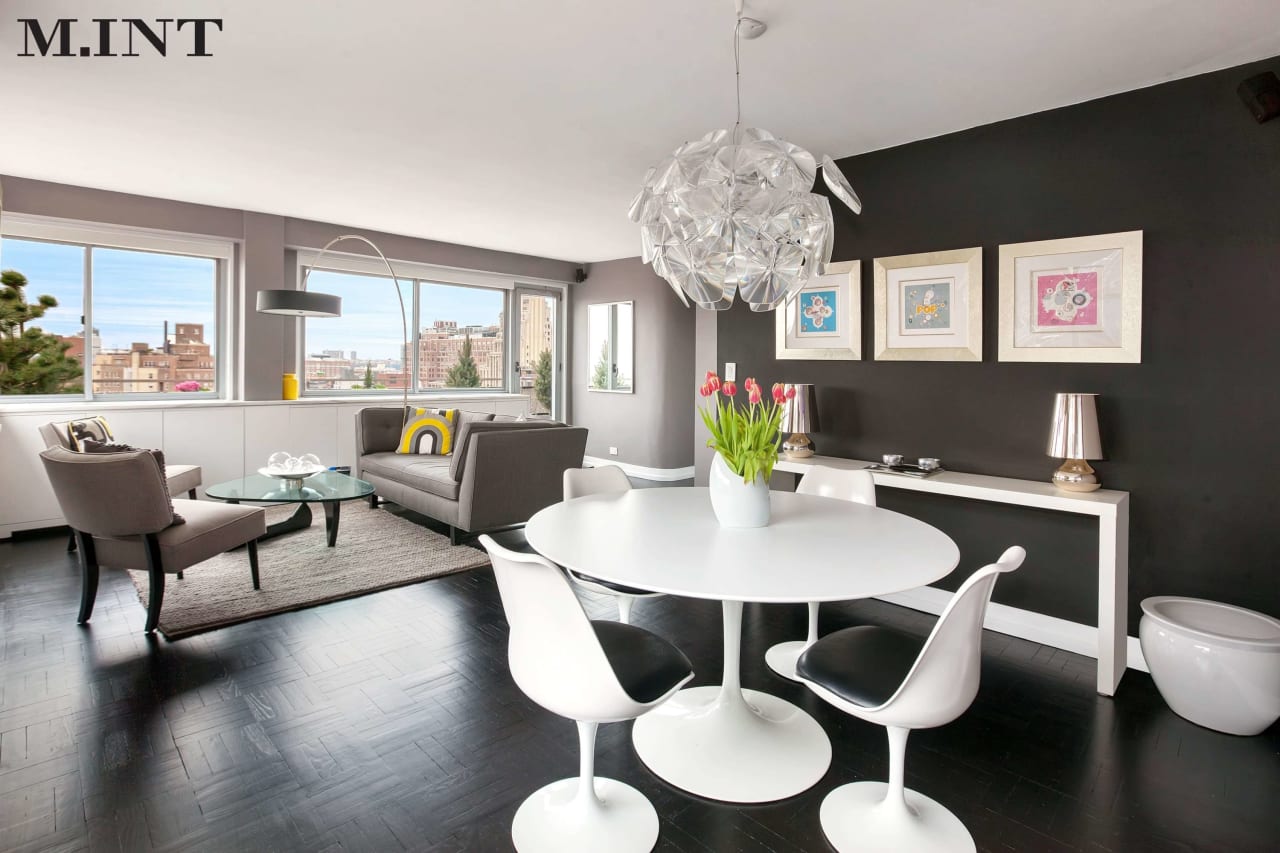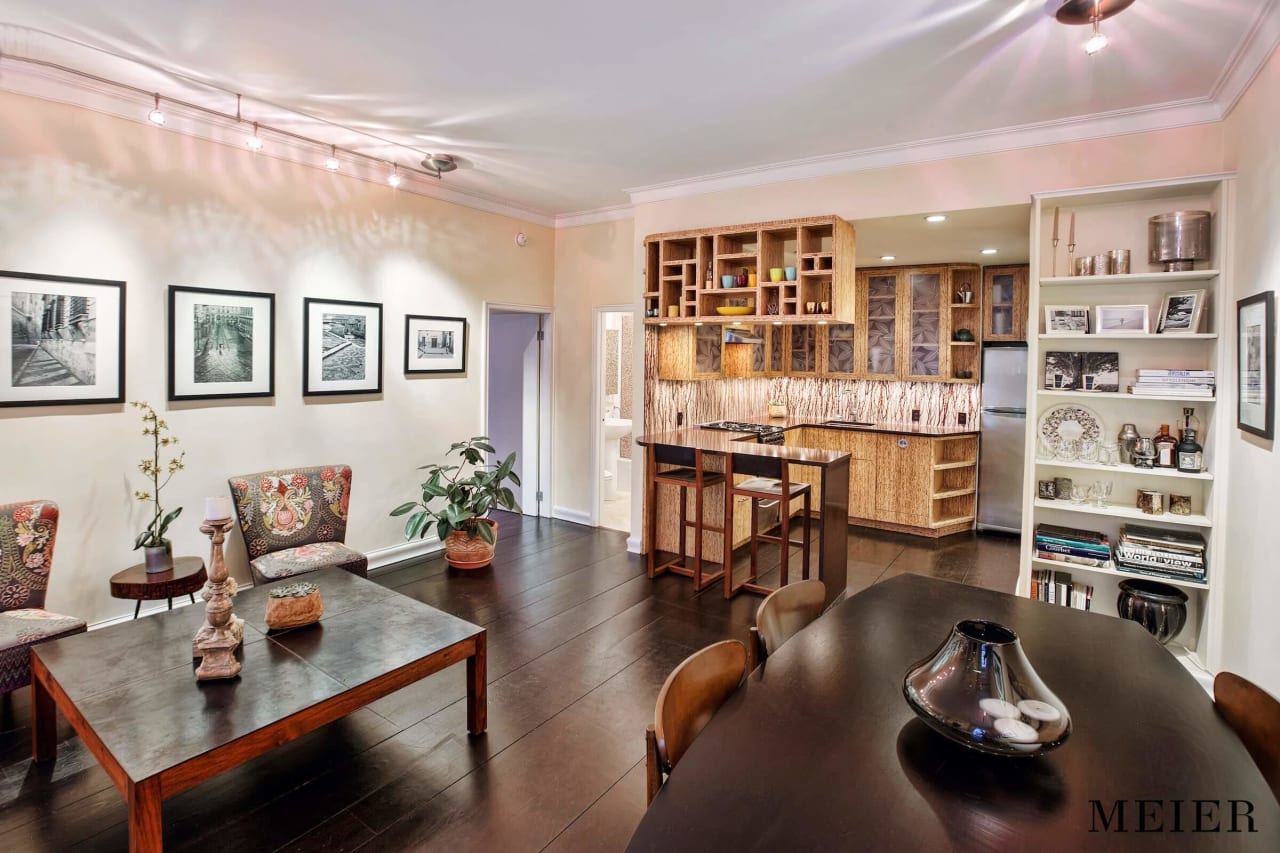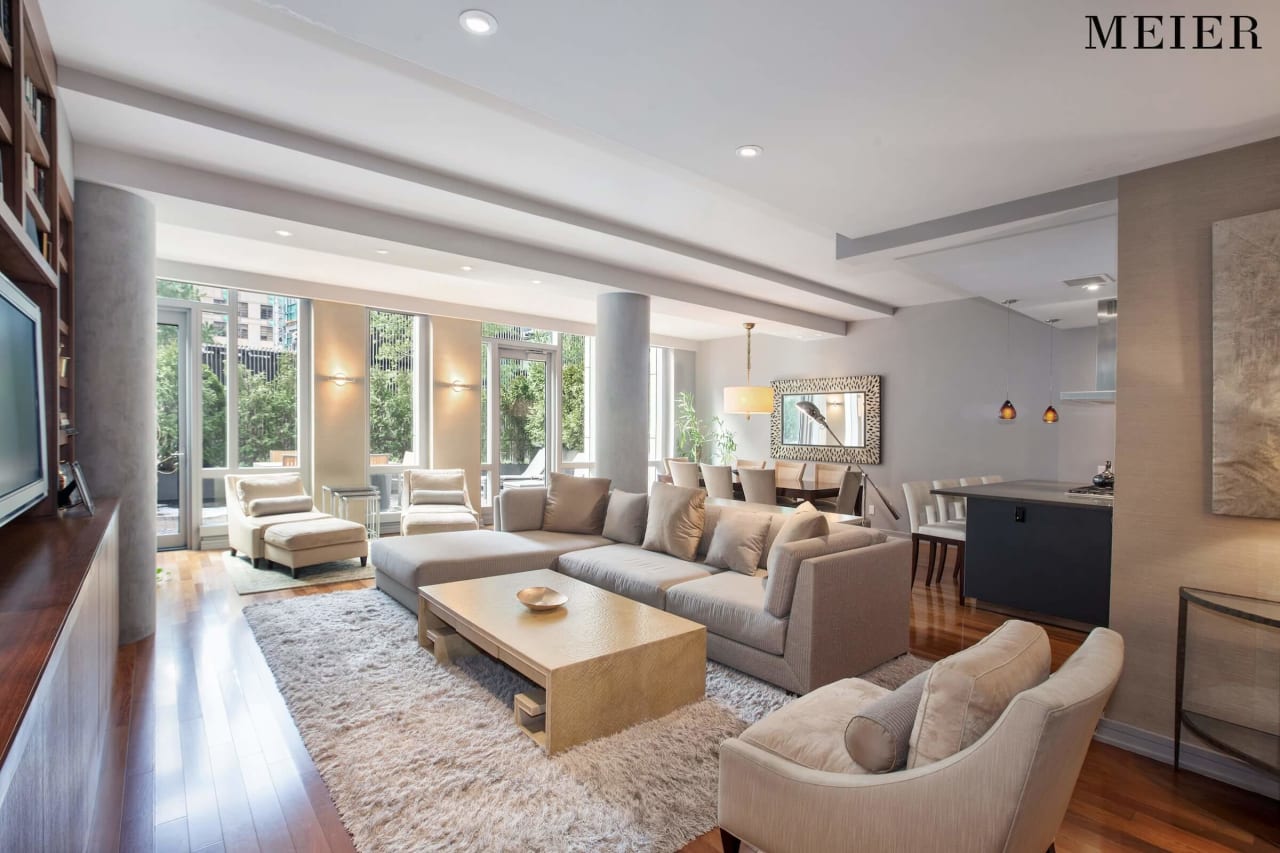 Inspire prospects to imagine living in your home. View some examples of the stunning property videos we've created for our clients in the past:
Selling a Gem the Right Way, When Getting Personal Gets Results, Building Buzz for a Chelsea Loft & Flatiron Flip.
Selling a Gem the Right Way
4. DIGITAL MEDIA & SOCIAL MEDIA TARGETING

We will market your property on social media platforms using a system that targets those individuals most likely to purchase your property. Michael Meier is the leading expert in social media marketing and digital targeting, as well as a highly sought-after public speaker who educates real estate agents on how to maximize exposure for listings using social media.
Michael Meier - Public Speaker | Real-Estate Wealth Expo
5. PROPERTY LAUNCH PARTIES & PRICING EVENTS

Get pricing feedback before listing your property with our pioneered pre-listing pricing events. We then advertise open houses to create a hot-ticket atmosphere for your home that will put your address on everybody's lips to drive strategic bidding situations.
All of our properties are syndicated across real estate databases, social media, search engines and New York City brokerages. While that parallels The MEIER Team with other top teams and firms, the similarities end there. Our creative team of experts work with our agents to be proactive, personal and strategic for a unique client service that is simply on a level unmatched in the industry.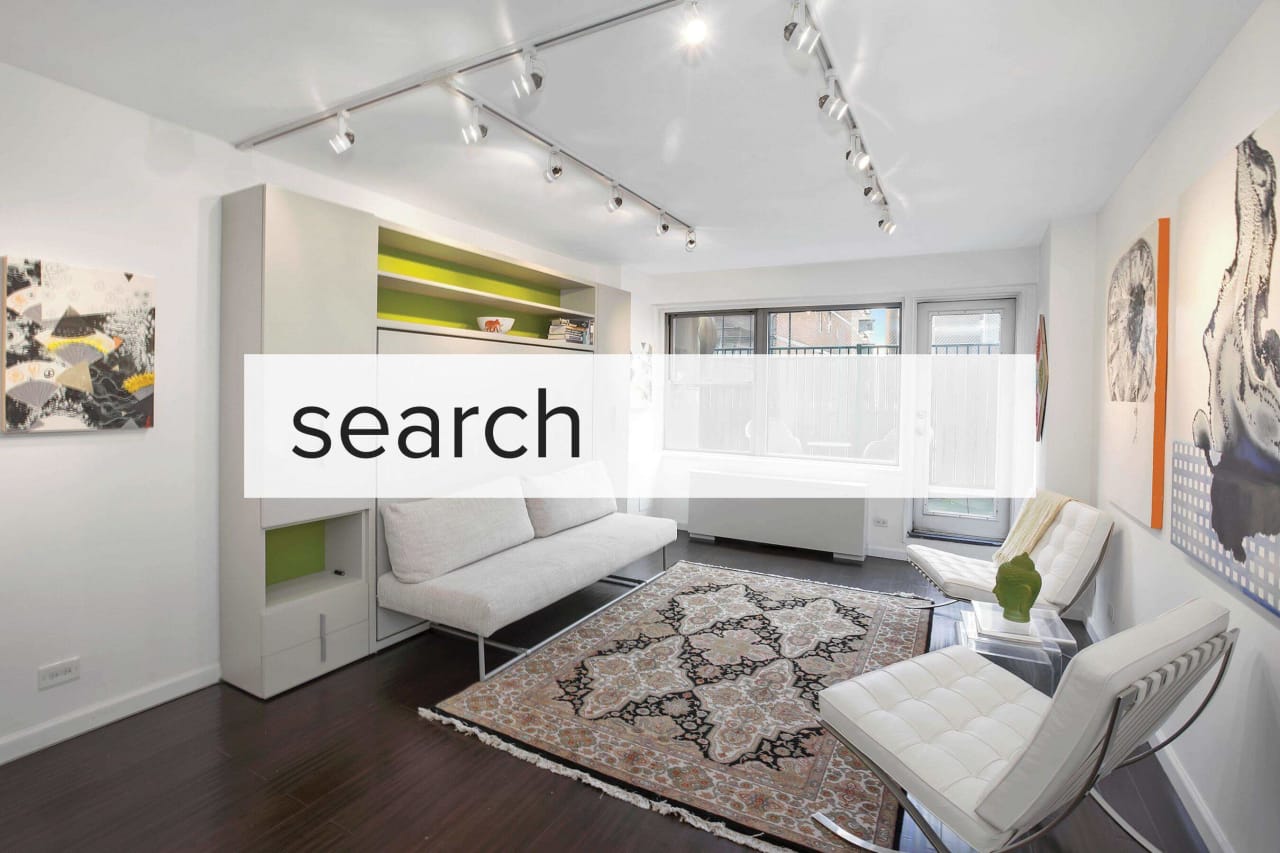 7. REPOSITIONING STRATEGIES / PROPERTY MAKEOVER STRATEGIES

The MEIER Team is the go-to source for owners whose properties require repositioning in the marketplace after having expired with another agent. Our relaunch of a property removes the negative residue left behind by the latest failed marketing attempt, and creates a competitive bidding environment required to shift the leverage from buyer to seller. To learn more about our successful property makeover strategies, take a look at our , and case studies.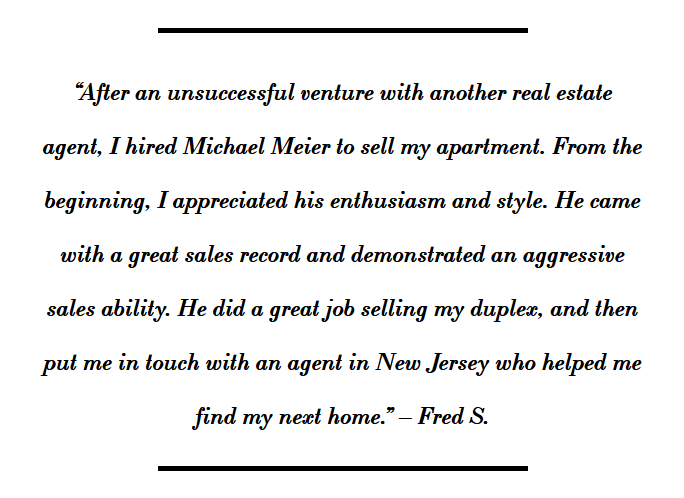 8. LOCAL & INTERNATIONAL EXPOSURE
We want your property to be top of mind amongst other top agents in our market, so we'll contact our vast network of high net-worth individuals and Fortune 500 companies to directly announce the sale of your unit (see Case Study: Flatiron Flip). Team leader, Michael Meier, is also a sought-after speaker, educator and celebrity interviewer in the brokerage community, with thousands of agents attending his mastermind sessions and events every year. When we list a property, it gets noticed — and agents are excited to bring their buyers.